Trade on the most sophisticated trading technology IC Markets CTrader
cTrader platform combines the speed of high performing trading platform with the deep liquidity of IC Markets, providing clients with the ultimate trading solution. It utilises proven technology that will enable you to take your trading to the next level.
Open Account
System Requirements Minimum: Dual Core CPU processor, 2gb memory, Windows 7 Operating System onward.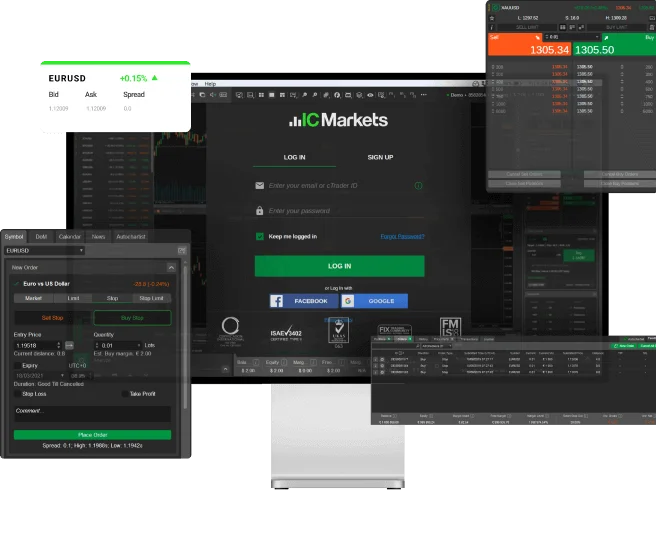 Why trade on cTrader with IC Markets?
The World's Most Popular Platform

Real-time forex and CFD quotes
Market leading spreads and low commissions
Servers in the LD5 IBX Equinix Data Center
Micro lot trading – Minimum lot size of 0.01 with no maximum
Flexible funding and withdrawing options
Level II pricing with full market depth
No restrictions on limit orders
Multiple order types
Detachable charts
Expanded symbol display
Real-time reports
One-click trading
What makes IC Markets' cTrader Platform different?
IC Markets has partnered with key providers to bring you a powerful and user-friendly platform designed to take your trading to the next level.

Extremely Low Spreads
IC Markets boasts some of the tightest spreads of all Forex CFD providers globally. Spreads on the EUR/USD can often be seen at 0.0 pips during the European and North American trading sessions. The average spread on EUR/USD is 0.1 pips 24/5.

Fast Order Execution
The IC Markets cTrader server is located in the LD5 IBX Equinix Data Centre in London. The LD5 IBX data centre referred to as a financial ecosystem is home to over 600 buy and sell side firms, exchanges, trading venues, market data and service providers.

Advanced Trading Tools
IC Markets' cTrader offers advanced trading tools including advanced order types, depth of market (DOM) and volume-weighted average price (VWAP) indicators, to help you make informed trading decisions.

Smart Stop Out
The Smart Stop Out logic in cTrader has been designed to provide maximum protection to traders' accounts. This logic will replace cTrader's Fair Stop Out logic because it provides significant benefits for users by using a much more advanced algorithm.

Level II Pricing
cTrader platform offers complete transparency of the liquidity of each currency pair by showing the available volumes for each price level at any given time. IC Markets' high liquidity, asynchronous spot prices and low latency guarantee the tightest possible spreads.

No Restrictions on Trading
Our cTrader platform has no restrictions on trading, providing you with some of the best trading conditions. This allows traders to place orders between the spread as there is no minimum order distance and a freeze level of 0. This means orders including stop loss orders can be placed as close to the market price as you like.
How to open an cTrader account with IC Markets.
Before you can start trading, you will need to open a Standard or Professional cTrader account. Upon successful account registration, you will find your cTrader account details listed in your Personal Area.
Step 01

Open an account with IC Markets

Step 02

Download the exe file from the Trading tools section

Step 03

Run the trading terminal on your Device

Step 04

Select 'Login to Trade Account' in File menu

Step 05

Enter your credentials and the server of your cTrader

Step 06

You will hear a chime confirming your login
Start Trading